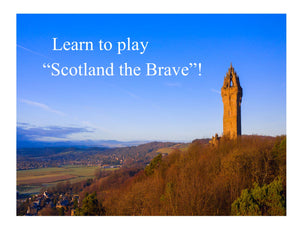 This is a program designed to help you learn and build "Scotland the Brave"
Here's what you should do:
Print out the .PDF's  They consist of:

Simplified Scotland The Brave

The Prep Drills

The real version of Scotland The Brave

Learn the Rhythm First

Use the Real Version as the Syllables are under the melody notes

Learn to play the Easy Version first

Learn to play the Prep Drills

Learn to play the regular version last
Each lesson has audio with it.  
Scotland the Brave Rhythm Sung

Scotland the Brave Easy Version

Scotland the Brave Prep Drills
Scotland the Brave -Big, Slow and Open

Scotland the Brave at Parade Speed.
If you were to buy time to learn all of the processes in this package, you would spend over $120! You can get it as a digital download for only FREE! 

If you are looking for a book that has all of the tunes that you need to play to get started as a bagpiper, consider our book "Bagpipes For Beginners".  This starts with all of the Massed Band Tunes and includes tunes for every occasion.  Click on this link for more information:  Bagpipes For Beginners
I am going to give this program for free.  If you feel in your heart that you'd like to support my effort, I will gladly take a donation through Venmo using the link below.  I thank you in advance for your support!