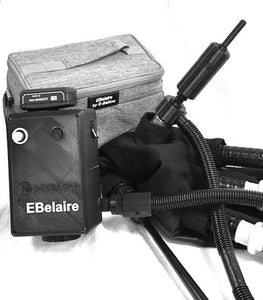 General Description:
EBelaire is a patented adaptive air supply, and control system, that replaces the air flow and pressure sufficient to operate a full Great Highland Bagpipe  or any other mouth, or bellow's blown bagpipe.
EBelaire is completely portable and provides independence of movement sufficient to permit use during band practices, stage performances, parades or at other venues 
EBELAIRE includes a wireless control system that supports the execution of 3 pace roll starts and clean drone cutoff's on properly set up instruments.
EBelaire uses replaceable, and rechargeable Lithium Ion batteries.  These allow for virtually unlimited playing time.
EBelaire weighs only 4.5 pounds and can be worn over the shoulder using the provided wide strap.
EBelaire generates less than <55dB of sound (measured in 12x12 room at 5 feet from source)  
 The EBelaire is composed of :
 A portable, and rechargeable, air supply
 A wireless blow-pipe like control  system that manages the airflow through the application of gentle 'Puff' of Air from the player's mouth.
 Variable airflow and pressure controller
 A Universal Blowpipe Adapter that supplies air and pressure to the bagpipe through the existing blowpipe stock.
Extendable Shoulder Strap