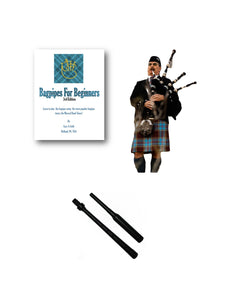 Learn to play "The Great Highland Bagpipe"! You don't need to buy a set of pipes to get this project started. You need a:

Practice Chanter
A Book and 
A Teacher
If you are totally new to playing the bagpipe choose option 1.  This package is the only thing that you need to get started. 
If you already have a practice chanter choose option 2.  
If you already play and want regular lessons with me choose option 3.
If you already play and would like help solving a problem, choose option 4 or 5.